Don't you agree that nobody wants pain? One of the reasons why people feel discouraged from going to the dentist must be injection as patients are always suffering from the pain of injection. Firstly, in our clinic, to reduce pain, we apply medical gel to where the needle goes in. Secondly, using a special syringe with an extra fine needle, we give the least pain to the patient. Thirdly, the temperature of anaesthetic is kept at 37°C, which is the same as the body temperature. Therefore, it almost feels like a mosquito bite. We are sure that this will remove your worry.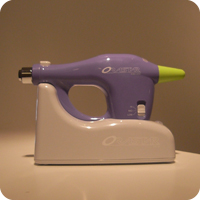 Dental Electric Syringe
This syringe injects anaesthetic regularly at three different speeds.
It enables the patient not to feel pain.