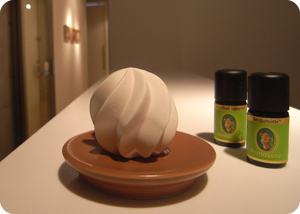 A clinic filled with scent
Don't you remember that you felt really relaxed or refreshed thanks to a pleasant scent? It is the effect with which the information of smell is conducted to the brain.

Aromatherapy
Aromatherapy is one of alternative medicines with the use of essential oils extracted from plants. They are believed to influence our body and mind, producing an overall balance. It is based on the idea that a pleasant smell for a person automatically keeps his or her physical balance. This therapy raises hopes that the relaxation promoted through enjoying your favourite smell may not only have psychological effects but also improve your immune system and make your body resistant to stress.

Holistic
Each essential oil used in aromatherapy has its own component so it is said to have its own fragrance and effects. Certainly, this is quite different from medical treatment, but aromatherapy takes a holistic approach to body and mind, optimising these effects for maintenance and improvement of health, different from symptomatic therapy. This perfectly coincides with our policy 'not only oral treatment but overall treatment and prevention'.

'Hospital' and 'hospitality'
Everyone has their favourite smell. A scent pleasant for someone could not be necessarily pleasant for another person, and it smells different depending on the physical condition. Before surgery, we choose the most suitable essential oil for you considering your health constitution, condition and taste. At the reception, we are happy to welcome you with 'cordiality' and 'kindness', providing fragrances according to the season. This is just as 'hospital' is etymologically derived from the word related to 'hospitality'.